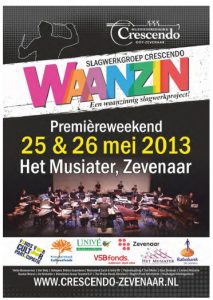 Other pieces in this program: Digital Stress – Mahaba Madhara (in the category Theatre) – Magie 2 (in the category Concert)
for 9 female voices, tpt, trb, vln, gtr, b.gtr, acc & 16 percussionists – On 3 poems of Ingmar Heytze (Nocturne; Los; Bericht aan de reizigers) – Conductor: John Sonderen. Percussiongroup Crescendo Zevenaar + 9 students of ArtEZ Music Theatre Department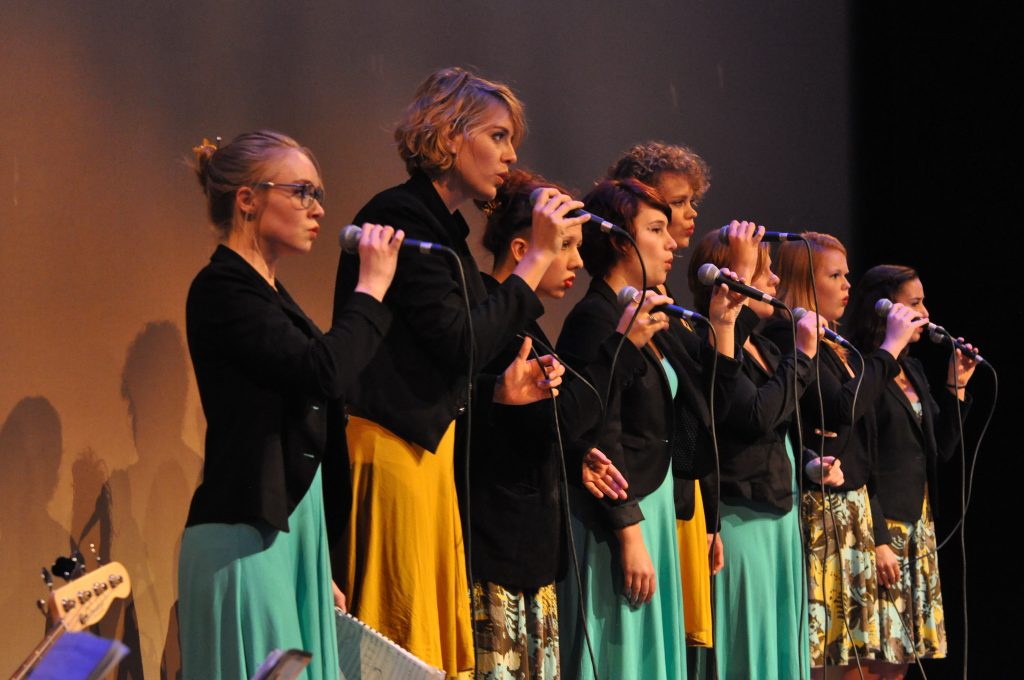 From Left to Right: Mirthe Dokter – Nike van Essen – Annika Schima – Vivian Selman – Kira Kool – Floor Thissen – Cassandra Onck – Ilse Tanis. Rosine Langbroek cannot be seen on this picture. See her dancing in the project Mahaba Madhara.
Magie 1 concerns a second aspect of our program WAANZIN (Madness): magic, crazyness, hallucination. I have been looking for poems that represent this magic, and found the poem "Nocturne" of the Dutch poet Ingmar Heytze.
De sterren zijn met veel vanavond       Grote ogen in de nacht       Een meisje zwiert haar rok tot bloemen        Op een dansfeest aan de gracht
You cannot really translate this, but I'll try.
The stars speak for many, this evening        Great Eyes in the night        A girl dances her skirt into flowers        On a ball by the waterside
We also go to some heavier, violent stuff: Dante Alighieri's Inferno. A 14e century Italian poem that describes a journey through hell. And, what the devil looks like.
S' el fu sì bel com' elli è ora brutto,         e contra 'l suo fattore alzò le ciglia,         ben dee da lui procedere ogne lutto.